Denise L. Baer, ASID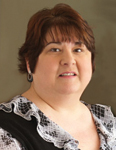 Denise has been an Interior Designer for over 20 years with a Bachelor of Arts in Interior Design from Kent State University. She is NCIDQ Certified and a member of the American Society of Interior Designers. Denise has spent the majority of her career designing corporate and professional office interiors in collaboration with architectural firms (The Design Alliance and NEXT architecture) in Pittsburgh. This experience has provided her with in-depth knowledge of interior architecture and construction.
At the request of her commercial clientele, Denise has completed residential projects to include an eight bedroom residence in Ligonier, a three bedroom condominium in The Hunt Stables (Rolling Rock Club), as well as, multiple homes in the Greater Pittsburgh area.
Denise's design philosophy is to create timeless, stylish, comfortable and functional interiors that are uniquely suited to the individual client. Her strengths are meeting client expectations in the areas of aesthetics, budget and schedule by providing captivating designs and efficient project management and communications.
Denise lives in Cheswick with her daughter (Helayna) and husband (Rick). She is an active member in Girl Scouts of Western PA and her church, Our Lady of Victory in Harwick, PA.
Denise has been an Interior Designer at Rustic Lodge and Alpine Living Design since October 2011.